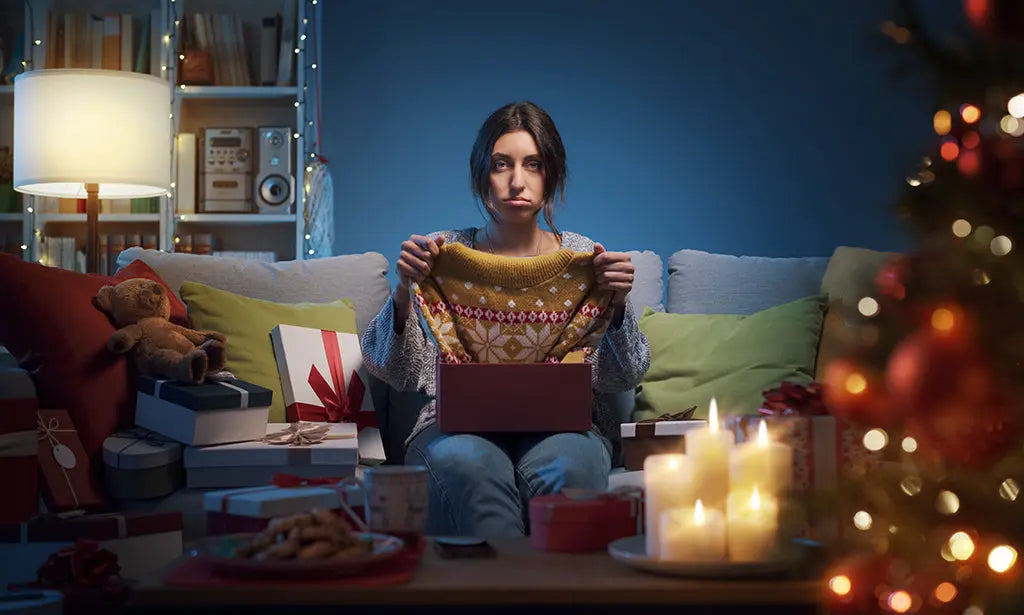 Do you know how to wear a Christmas sweater?
A sweater is not just a garment that you wear to protect yourself from the cold. A beautiful, well-made, fitted sweater on a slim figure can be as striking as a charming smile.
Sweaters are very versatile. Almost any occasion is a good one to incorporate a sweater into your outfit. If you choose the right sweater and pair it well, a simple sweater is great to wear outdoors, on trips, and even in formal situations.
To look good with a Christmas sweater (or a non-Christmas one), you have to pair it well with the rest of your outfit… and your figure!
For example, pair your sweater with leggings, a cami, or a tank for a stylish outfit on a shapely figure. And so you will wear it with safety and pride!
To be fashionable and comfortable with your sweater
Wear a cami to add a casual look to the sweater. A cami pairs well with sweaters with a more open neckline, such as round necks or wide V-necks.
This is a great way to add layers to your outfit to keep you warmer in the cold without hiding your sweater. Plus, camis are also helpful to prevent a scratchy sweater from irritating your skin. Especially if the cami is from Curveez: your second skin!
If the collar of the cami is not visible, it does not matter; the cami will do its job. If the collar is showing, choose a neutral shirt color, like white, to complement the look of your sweater.
You can also combine your sweater with leggings to achieve a casual style. Black leggings go very well with most sweaters, especially if it's in bright colors.
A loose or fitted sweater will look great with leggings that perfectly fit your body.
How to feel better in your nice Christmas sweater?
So far, we talked about combining other clothes with your Christmas sweater. But what about the body that goes into the sweater?
The most beautiful sweater combined with another pretty garment may be not enough to feel good. It would help if you also felt good about your figure. You need a molded and stylized body. The one you always wanted!
Holidays are a perfect time to give yourself (and your loved ones) the shapewear that allows you to spend the winter season more warmly. And, at the same time, to shape your figure and wear your outfits better.
Curveez shapewear keeps you warmer in the winter season. Thermally and gently envelops your skin. It gives you warmth… and treats you warmly.
The ideal garment is the perfect shapewear for the size and figure you want to achieve. For example:
A Curveez cami shaper smoothes and shapes your midriff with 360° compression, and doesn't flatten your bust. Wear this shapewear tank under your sweater in the winter season.
Curveez brings you dressy layering leggings for a perfect control that shapes your waist and the entire length of your legs and firms your whole silhouette.
Use a Curveez shapewear bodysuit to shape your tummy, waist, back, and hips, and enhance your bust. It will provide the perfect figure to wear your sweater.
And many more options from Curveez to wear under your Christmas sweater gracefully and stylishly. Or under other clothes at any time and place.
See above our special Holiday offers!
Not everything is just a pretty sweater
You are a whole. It's not just about a Christmas sweater or a trendy one. It is also about a figure that looks good. And the smile on your face for looking good and feeling good. Safe and comfortable with yourself and your body.
Wear your best Christmas sweater… Curveez does the rest!
Shop online at Curveez with this amazing Christmas deal!
Buy 3 and get the 4th one free!*
It is 4 items at the price of 3 for selected products of Curveez! (*Equal o lesser value).
You can choose which products you want from this Curveez Christmas deal.
Take full advantage of this promo! Get the ideal Holiday gift set and share it with family members or friends as Christmas gifts!
Shop online fast and easy, and save big with Curveez!
Our promise of perfect fit and high-quality
We stand behind our products. If you don't love it, exchanges and returns are free for 60 days!
Learn more about the incredible garments of our specials for Christmas
Below, you can find some of the garments you can get at this Curveez Christmas deal. Learn about its features and benefits!
Every Curveez shapewear and activewear is high-quality and made with the most advanced and innovative technology in today's market.
Layering Leggings Barely There
These barely there leggings are made with a beautiful microfiber fabric to wrap you in seamless, smooth luxury while providing moderate compression support.
It includes seamless support for using the leggings under your regular clothing, such as jeans, dress pants, workout wear, and more. The seamless feature provides comfort and discretion.
The Layering Leggings Barely There allows you to feel comfortable and confident through any activity due to a 4-way stretch that flexes and moves with you without restriction.
Also available in nude color, which is perfect under white clothing.
Shapewear Bodysuit Second Skin Hip Hugger
Body slimming shapewear made of microfiber feels like a second skin. Superlative softness without losing compression.
This shapewear bodysuit provides the shaping support and comfort you desire. Seamless body briefer technology makes it virtually invisible under clothing.
Easily adjustable plush straps with coated metal hardware for comfort, paired with soft, breathable fabric for your daily life.
The Shapewear Bodysuit Second Skin Hip Hugger provides a 360° moderate compression to shape the tummy, waist, back, and hips.
Open-bust design shapewear to be worn with your favorite bra. It enhances the bust: adjusts, centers, and lifts it.
Cami Shaper Incredibly Slimming
This slimming cami shaper with smaller straps smoothes and shapes your midriff with its 360° control panel. Wear this cami shapewear under clothes in the winter season or as-is during the warmer months.
The Cami Shaper Incredibly Slimming integrates seamless technology. Made with soft lighter weight control microfiber fabric, doesn't flatten the bust.
With gradual release at the bottom, it prevents rolling up and allows greater comfort without losing shape.
Furthermore, this cami shaper has a round neck shape design, and soft comfort elastic at neck and straps.
High Waist Brief Signature Control
Our high waisted shapewear with silky soft microfiber will contour your shape while its double-layered high waist band offers superlative control of your midriff. The double layer keeps the garment tight and prevents rolling.
Provides 360° firm compression that shapes your silhouette and firms the abdominal area. Silicone band keeps garment firmly in place.
The High Waist Brief Signature Control shapewear with full back coverage provides all-day control comfortably. And the seamless design provides comfort and discretion.
Infused Vitamin E yarns with antioxidant properties nourish your skin for a calming and smoothing effect.
Layering Leggings Perfect Control
Provides excellent lower back and tummy control while creating a natural butt-lift effect. Designed for use under clothing, you can feel comfortable wearing our high-waisted shapewear leggings under any outfit. 
Made of microfiber fabric, lifts and shapes your buttocks while defining your waist and back. Covers the abdominal area helping to shape the waist and firm the silhouette.
The Layering Leggings Perfect Control provides 360° medium compression for your tummy, legs, thighs, and lower back. And shapes the entire length of your legs while compressing to conceal varicose veins and cellulite.
Furthermore, a silicone band on the waist prevents rolling.
Leggings for Women Relax
These women's leggings are an essential and functional piece you can easily wear daily. Perfect to use for working out or any indoor/outdoor activity.
You will always feel comfortable thanks to its unique fabric made with microfiber and nylon that shapes your body but feels like a second skin. And this quick-drying fabric lets you stay cool and dry all day long.
The Leggings for Women Relax provides a seamless construction with firm control. Its wide double-layer waistband will slim your waist perfectly.
The multi-directional fabric gives you more freedom, comfort, and better shaping of the body. Also provides excellent softness and comfort and perfect fit.
Happy Holidays!
Our sincere wishes to you.