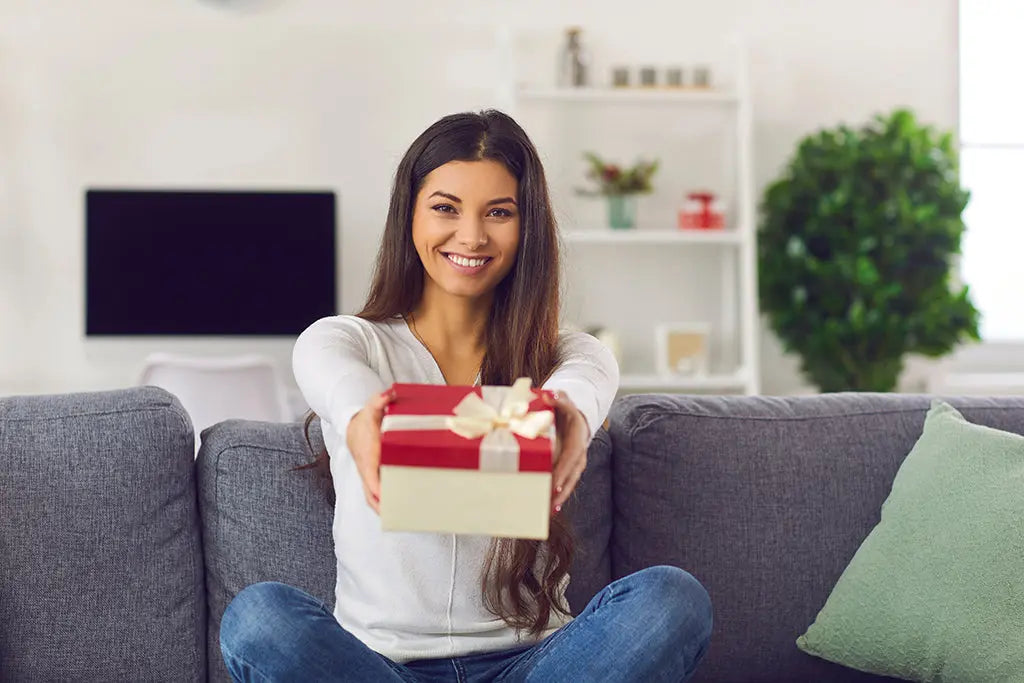 Ideas for Valentine's Day gifts
Valentine's Day is just around the corner and it's time to think about what to wear on this day and what to give to your loved one. Both are important for this celebration of love, romance, and affection. 
And Valentine's Day outfits to wear and give away are things that are especially thought about when this special day approaches. 
Valentine's Day gifts are usually the most common and best way for couples to express their love for one another. And the best beginning of a happy Valentine's Day! 
But here comes the problem: what clothes to wear I, and what to give to my partner. Valentine's Day is a special occasion that brings joy and love to couples, but it can also be stressful to choosing the perfect dress to wear and the perfect gift to give. 
This post brings you some Valentine's Day ideas for both, you and your partner to make the most of this season of love. Read on, it's worth it!
Fashion and trends for Valentine's Day
Valentine's Day fashion trends aim to love, romance and glamour. And is an excellent opportunity to embrace the latest fashion trends. 
Women want to look their best on this special day choosing the perfect outfit. And much better if it has a romantic style. 
The latest fashion trends for Valentine's Day include elegant and classic pieces. This year, the focus is on stylish feminine pieces that make a statement.
Choose a dress or blouse that is both beautiful and comfortable, and complete the look with a skirt or pants.
From red dresses to pink skirts, there are many options to choose from. Feel free to experiment with different styles and textures. 
Lingerie, accessories, and jewelry are excellent complements for a completely fashionable and attractive look. And remember to keep in mind to wear the perfect shapewear for women to look your best and feel confident on this special day. 
And if you are a man looking for a gift for your wife or girlfriend, we recommend choosing a comfortable, stylish suit or a casual outfit.
Valentine's Day gifts for her
Valentine's Day is close, and it's time to start thinking about a gift for that special woman in your life. And this also includes yourself!
One way to show your significant other how much you care is by giving her a practical gift that makes her feel good. But, of course, something affordable and easy to buy!
Think big and be wise to choose Valentine's Day gifts
If your partner is someone who values good looking, comfort, and confidence in their appearance, shapewear is the perfect choice for your Valentine's Day gifts for her. 
Shapewear is a type of undergarment that enhances the woman's figure by smoothing and shaping the body of plus-size women and stylizing the slimmer ones. This way, shapewear will bring her style, comfort, and confidence. And, perhaps, a change in her life. 
Whether she's looking to enhance her natural curves or provide extra support where needed most, slimming underwear suits any need. With a wide range of shapewear for women available to choose from, you will find the perfect piece to make her feel beautiful on this special day… and every day. 
So, definitely, shapewear is the perfect gift for Valentine's Day. Even more if it is from Curveez, because….
Curveez is high-quality shapewear for women with the most advanced and innovative technology in today's market.
Also, to give yourself!
Valentine's Day is a great opportunity to show love and appreciation for your significant other. But why not show yourself some love too? 
With the right shapewear, you can look and feel your best on this special day wearing your Valentine's Day dress. Whether you want to dress up for a romantic date or just a night out with friends, these garments can help you achieve a smooth and flattering silhouette. 
Women's shapewear is a must-have for a stylish and confident look on this special day, and for every occasion.
How to choose the right shapewear
There are many types of shapewear for women, including bodysuits, waist cinchers, shapewear leggings, and shaping shorts. Each type targets specific body areas, such as the tummy, hips, thighs, or buttocks. 
When shopping for girdles, you should consider your partner's needs, body type, and the areas she wants to enhance or smooth. 
If she needs thighs and/or tummy control, consider a high waist shapewear or a tummy control brief.
See the High Waist Thigh Slimmer Comfort Evolution and Control Brief Flawless for detailed info.
If she wants to enhance her hips and butt, look for shapewear leggings or shapewear bodysuit with built-in support in those areas.
A full body shapewear or shapewear dress may be the best option if she's looking for full-body coverage. 
If she's looking for something more comfortable and less constricting, a high waist leggings may be a better option.
Another factor to consider is the level of control she wants. Some shapewear pieces are designed to provide gentle shaping and support, while others are designed to provide a more noticeable transformation. On this last case, look for shapewear with built-in padding or shaping panels.
See the Hip Hugger Thermal Lace Trim Bodysuit for detailed info.
When selecting the size, keep in mind that a too small girdle can be uncomfortable and restrict movement. While a girdle that is too large can be bulky and ineffective.
Another essential factor to consider is the material of the shapewear. Look for shapewear made of breathable, stretchy, and soft fabrics, as they are comfortable to wear and allow the skin to breathe. 
There are shapewear pieces made from a combination of spandex and nylon, which provides a comfortable and stretchy fit. And other options made from more breathable fabrics, like cotton or microfiber, can be ideal for warmer weather or workouts. These are the fabric that Curveez uses.
And if you want not to notice that you have a girdle on, it should be designed with seamless technology to make the seams virtually invisible under clothing.
In any case, Curveez Customer Service is at your disposal for any question you may have and to advise you on the perfect shapewear for you or your partner.
With so many options available at Curveez, you're sure to find the perfect shapewear gift for your partner to give her (and you) a happy Valentine's Day.
How to match Valentine's Day outfits with the right shapewear
Shapewear is essential for creating a flawless, smooth figure. On Valentine's Day, the right shapewear can help women look and feel their best, giving them confidence and comfort all day long. 
When choosing a girdle to wear with your Valentine's Day outfit, it's important to consider the cut and style of your outfit. For example, if you will wear a tight dress, you should choose shapewear that won't show under your outfit. Most of Curveez products are virtually invisible under any garment.
To choose shapewear for women consider the following:
Choose shapewear that fits perfectly well and is comfortable to wear. Curveez shapewear meets this requirement.
Choose shapewear made from high-quality materials, as Curveez uses for their products.
Consider the clothing you will wear, as some shapewear may be more suitable for specific outfits. For this, read on the following point.
Shapewear for some specific Valentine's Day outfits
For dresses
Choose shapewear for dresses designed to smooth and sculpt your curves, such as a waist cincher, a full-body shapewear slip, or a shapewear bodysuit with built-in control panels.
These will help you create a flattering silhouette and accentuate your curves. These types of slimming underwear can help create a sleek, smooth silhouette, accentuate your curves, and provides support where you need it most.  
For a Valentine's Day dress, also look for a high waist shapewear for using with a low-cut dress and providing maximum coverage and control. 
See the Hip Hugger Thermal Lace Trim Bodysuit, the Strapless Slip Magic and the High Waist Contour Short H-Evolution for detailed info.
For blouses
Choose a shapewear camisole or a shapewear tank top. These girdles can help smooth your midsection and provide a more flattering look. Look for shapewear with a low-cut design to avoid any visible lines under your blouse.
See the Cami Shaper Incredibly Slimming and Control Tank Essential Square Neck for detailed info.
Also, consider a shapewear bra designed to enhance your bust, such as a support bra with built-in shaping cups. 
See the Full Coverage Bra BRAEEZ 7 Wonders for detailed info.
For skirts
Choose shapewear leggings or shapewear shorts with control panels. These girdles can help smooth out your thighs and hips and provide a more flattering look. 
Look also for high waist shapewear to provide maximum coverage and control, such as a high-waisted control panty, also designed to smooth hips and thighs. 
See the Shaping Shorts Power and the High Waist Brief Flawless, panties that make you feel sexy and feminine, special for Valentine's Day.
Hey! What about the Valentine's Day gifts for him?
You may also be looking for Valentine's Day gifts for boyfriend or husband. 
Activewear is also a great gift option for him on Valentine's Day. Activewear is a garment specifically designed for physical activity, such as running, cycling, and weightlifting.
It can be a practical and thoughtful gift for fitness enthusiasts. 
When choosing the right activewear gift for your boyfriend, it's essential to consider what kind of physical exercises he usually does. 
For instance, if your partner runs, lifts weights, or does strenuous exercises to burn fat, a workout belt is his best ally. This also helps prevent lower back injuries while improving his posture.
We recommend the Powernet Gym Belt o the Neoprene Gym Belt Ez Sweat from Curveez.
Important: This gym belt is not only for men; women can also benefit from this waist trainer for women for their gym routine.
Another critical factor to consider is the material of the activewear. Look for sports girdles made of breathable, stretchy, and moisture-wicking fabrics, as they are comfortable to wear and keep him cool and dry during his workout. These essential attributes characterize Curveez activewear for women and men.
Get the perfect Valentine's Day gifts at Curveez
Looking for Valentine's Day gifts for your love? Make an original, practical, intelligent gift: shapewear or activewear from Curveez! 
It will help her or him look and feel their best. So, choose the perfect shapewear or activewear and make this Valentine's Day a memorable one... for both. 
And for that, you don't have to spend much money or time surfing the web or walking in the marketplace.
At Curveez, it's a time of fabulous Valentine's Day sale!
Shop online fast and easy, and save big with Curveez!
Happy Valentine's Day!