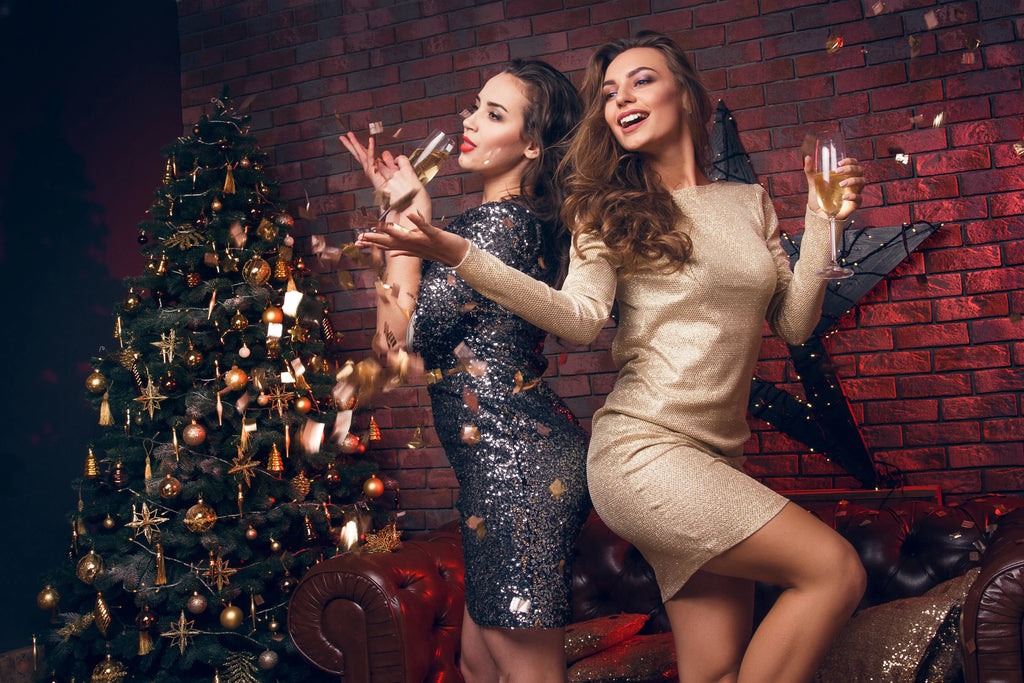 A New Year's Eve dress to look great
The New Year is close, and you must be thinking about how to look great at the New Year's Eve party. A new dress to start the year by premiering something new? Or that beautiful dress that everyone admired a few years ago on that anniversary? (and no one remembers it anymore... so you can wear it again!).
Every year farewell party with family or friends invites us to dress elegantly and with personality. And for some of us, to wear a flashy, bright, and sexy look. Perfect to stoke the mood and euphoria and start the year with a new attitude.
Yes, because, even if it is not a gala or business gathering, there is always a good reason to wear that radiant and unique dress that we have kept in the closet waiting for a special time.
In any case, wearing a New Year's Eve dress allows you to look radiant and say goodbye to 2022 with style.
How to best wear our New Year's Eve dress?
Looking radiant on New Year's Eve is not just a matter of putting on the prettiest or best-fitting dress, but also having a good figure that enhances the outfit… and your entire look! You know it!
A smooth silhouette is essential for wearing your outfit to the best effect. Whether you are plus size or smaller.
A good figure for the New Year's Eve is a good start for the New Year's Day
And for that, the perfect shapewear for you, the one that best fits your body's shape and size, and provides comfort, is the ideal complement to look wonderful that night and feel confident about yourself.
Shapewear options for New Year's Eve
Here are some recommendations for stylizing your figure with a New Year's Eve dress. To be cool and comfortable at the same time!
To look natural, feel comfortable with your well-shaped body, move freely, and even dance all night long, a moderate and firm compression shapewear will be ideal for you. It will allow you to fully enjoy New Year's Eve.
Yes! High compression shapewear is excellent for reducing the size or for the case of a post-surgery recovery process. But it might not be comfortable to move as you want, dance, and eat well on a night when… diet doesn't matter so much!
Also, the less compression the shapewear provides, the longer you can wear it. And, on New Year's Eve, you will surely be partying for several hours.
Another issue you have to consider is that the shapewear has a seamless design, which will allow you to wear your dress at the party with the peace of mind that the girdle you are wearing will not be noticed.
Bodysuits
You can wear full bodysuit shapewear, which creates a striking waist shape.
For example, use a bodysuit from Curveez like the Shapewear Bodysuit Second Skin Hip Hugger, which will stylize you very well and allow you freedom of movement. And its seamless design makes it virtually invisible under clothing.
This is a seamless shapewear bodysuit that is virtually invisible under clothing. And feels like a second skin and provides moderate 360° compression to shape the tummy, waist, back, and hips. Its open bust design enhances the bust and allows you to wear it with your favorite bra.
Full body shapers
They are full body shaping and slimming girdles. With gentle compression, it is designed to smooth your silhouette and create a nice, elegant shape, perfect and comfortable under a party dress or any other outfit.
Curveez brings you the Full Body Shapewear Comfort Evolution designed to allow you to dance the night away in comfort and smooth your curves under any clothing. Provides a moderate 360° compression for a perfect and flexible fit.
With a seamless design, this shapewear molds the abdomen, waist, thighs, and hips and naturally lifts the buttocks.
High waist shapewear
A good option for that night if, for example, you are going to wear a low-cut dress is a high-waisted shapewear, which reaches where the bra begins.
In this case, Curveez brings you the High Waist Brief Signature Control, with soft and silky microfiber that shapes your silhouette. Its double-layered high waistband provides you with perfect control of the belly.
It also provides 360° moderate compression without seams for your comfort and discretion. At the same time, a silicone band keeps the garment firmly in place.
Shapewear camis
A cami is a good complement under your New Year's Eve dress (if it is not going to be low-cut) that gives you more warmth in the winter season while shaping your body.
Curveez brings you the Incredibly Slimming Cami Shaper that will give you a slimmer figure by smoothing and shaping your midriff without flattening the bust. Provides moderate 360° compression, is seamless, and doesn't move thanks to its perfect fit.
It has a wide round neck design and gradual release at the bottom, preventing rolling up without losing shape.
Bras
If you have a large bust and want to dance and move comfortably on New Year's Eve, a firm control bra will give you a great ease of movement.
In this case, use the Full coverage Bra 7 Wonders BRAEEZ, which is made with Powernet fabric on the back to provide excellent support, and is lined with microfiber for maximum softness and comfort.
This bra allows you to feel comfortable and supported, making it a feminine piece to be worn under various top styles.
Shorts
And if you prefer to wear pants that night? Tailored trousers fit nicely over shaping shorts.
For example, the Thigh Slimmer Second Skin shapes the waist, abdomen, hips, and buttocks. It is so light and soft that it feels like a second skin.
It provides moderate compression and is seamless, making it discreet under all types of clothing and providing maximum comfort throughout the day.
The perfect match: beautiful dress and soft curves
Yes! It is not just a matter of a pretty New Year's Eve dress or a fashionable one. It is also about a whole figure that looks good and makes you feel safe and comfortable with your body.
Wear your New Year's Eve dress… Curveez does the rest!
Shop online at Curveez with this fantastic New Year sale!
Buy 3 and get the 4th one free!*
4 items at the price of 3 for selected products of Curveez! (*Equal o lesser value).
You can choose which products you want from this Curveez New Year sale. So, get your perfect set and share it with family members or friends! Take full advantage of this promo!
Shop online fast and easy, and save big with Curveez!
Our promise of perfect fit and high-quality 
We stand behind our products. If you don't love it, exchanges and returns are free for 60 days!
Happy New Year 2023!
A sincere wish for you.